Chip shot in FIFA 21: tutorial of must-have finishing skill
Chip shot in FIFA 21 is a rather important skill to help you with scoring in almost every 2nd game. Here is detailed tutorial how to make chip shot and when to use it.
What is a chip shot?
Chip shot – is a kick that lifts the ball high in the air to go over goalkeeper and defenders (only be carefull with shot power – not to let the ball go over the goal bar).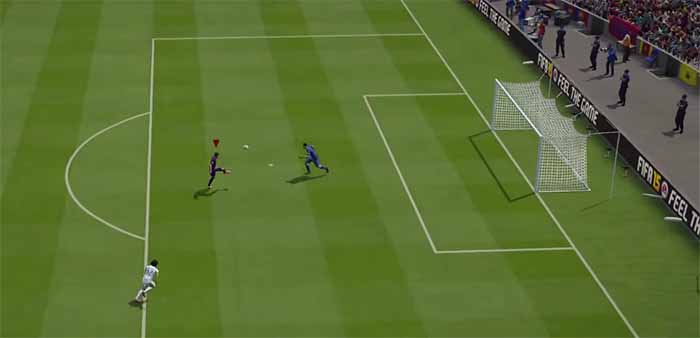 How to perform chip shot in FIFA 21?
To make chip shot in FIFA 21 you have to press simultaneously in PS4:
…. or hold LB and press B for Xbox.
How To Defend In FIFA 21: Explicit Defense Tutorial
When should I use it?
Actually the most common usage of chip shot is when your attacking player is facing one-on-one goalkeeper. Such situation are not rare in FIFA 21, so in general you can use chip shot almost every game and score with it each 2nd or 3rd game. That's why chip shot is must have skill for all FIFA players.
How to score long shots in FIFA 21?
There are some general recommentations for performing chip shots in FIFA 21:
The main condition for chip shot is that the keeper has to rush out for the ball towards your player.
When your attacking player is running alone towards opponent's penalty box and you see that his golkeeper is rushing out of the box – wait a little bit untill he finally gets out of the box. In that case you can score with every chip shot as being away from his penalty box goalkeeper cannot catch the ball with his hands.
The further you are from the goal – the more difficult to score with chip shot as the accuracy is lower. You have to hold shot power button long enough to let the ball go over the keeper but not too long (as the ball can go too high and fly over the goal bar as well). Also mind direction you hold the left stick – as your chip shot can miss the goal in case you are aiming in a wrong way.
You can use chip shot when the keeper is in the distance. If he is too close to your attacking player, he can easily catch the ball with his hands. Also you can use the chip shot when the keeper is too close and goes down to catch the ball at your feet. In that case even the slightest chip short can send the ball over the goal keeper. Only mind the timing! If you are too late with shot – the goalkeeper catches the ball or can touch it and change its direction.
You can use chip shot while performing penalty kick – sometimes making goalkeeper's mission to save impossible. Check this penalty kick chip shot glitch. To be effective in scoring with chip shot from penalty you have to know the best penalty takers in FIFA 21.
FIFA 21 Agile Dribbling Tutorial: New Game Changing Technique?