How to play with a goalkeeper in FIFA 21: Tutorial
Here we will provide with the tutorial and hints how to play with the goalkeeper in FIFA 21 correctly: how to put the ball into play, as well as how to get out of the goal and how to defend against a penalty.
The goalkeeper is often the last hope for your team to prevent a goal when the opponent has managed to break into the penalty area and create a opportunity for a shot.
During a match in FIFA 21, the goalkeeper has many opportunities to get involved in the game of his team: start the attack from his own penalty box, work with the defense line.
Chip Shot In FIFA 21: Tutorial Of Must-Have Finishing Skill
Still keeping in FIFA 21 is much like it was in previous FIFA version:
FIFA 21 Agile Dribbling Tutorial: New Game Changing Technique?
How to play with a goalkeeper in FIFA 21
Goalkeeper Controls
| ACTION | PLAYSTATION | XBOX |
| --- | --- | --- |
| Drop Kick | ◯ or ▢ | B or X |
| Throw/Pass | X | A |
| Drop Ball | △ | Y |
| Pick Up Ball | R1 | RB |
| Driven Throw | R1 + X | RB + A |
| Driven Kick | R1 + ▢ | RB + X |
| Move Goalkeeper | R3 Press and Hold + R | R3 Press and Hold + R |
| GK Cover Far Post | R3 Press and Hold | R3 Press and Hold |
| Switch to GK | Press Touchpad | Press Touchpad |
| Rush keeper out (while defending) | △ | Y |
Long and short passes by the goalkeeper (Drop Kicks)
Long range passes and shots (drop kicks) are by far the least accurate way to start an attack from your own penalty box, as you can never be sure to to reach your player with the ball. 
How to do FIFA 21 drag back: tutorial
To take a drop kick, press the "shoot" button and select the direction and strength of the pass. When taking a long shot, try to aim at a sector of the field with a large number of your team's players in order to have a good chance of intercepting the ball.
When resuming play with a short pass, always look out for the opposing attackers who may be waiting for the ball to be intercepted. During this move, also try to direct the ball towards the side sectors of the field so that in case of an error in a reception, the ball will just slip out.
How To Defend In FIFA 21: Explicit Defense Tutorial
Ball throw
Throwing the ball accurately is an easy way to resume play and start a counter attack. A good shot is useful when you managed to defend against a shot and catched the ball and still want to quickly resume play by passing to the closest open player. To this end press the pass button and specify the direction and strength of the movement.
Rush out of the goal
In some situations, you will need to move the goalkeeper forward from the goal line to prevent an attacking player from scoring successfully.
If you want to successfully complete this maneuver, you must wait for the right moment, preferably when the attacker has let the ball go too far or when the pass to the running player is too long.
| | | |
| --- | --- | --- |
| Rush keeper out (while defending) | △ | Y |
To exit the goalkeeper from the goal area, press the button above and hold it.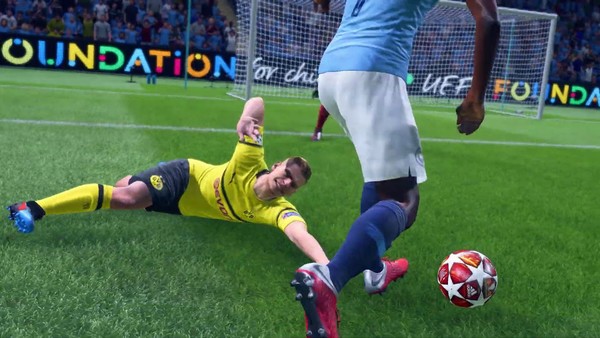 One-on-one cases
If there is a striker running with the ball towards your goal against only your goalkeeper, there are some recommendations how to prevent a goal:
Make your opponent feel confused to win some time and get your defenders involved.
You can rush out with your goalkeeper towards the striker.
The basic recommendation would be – to stop with the goalkeeper in halfway to make striker confused. Just try not to be very far from the goal. The opponent has to make a choice by either making a strong shot or a cheap shot – and usually neither of them succeeds.
Keepers and Penalties
The penalty saving is undoubtedly a lottery that takes into account the opponent's luck and possible mistake.
Each player takes a penalty differently, and it is very difficult to develop any defensive tactics.
How To Take Penalties In FIFA 21: Learn To Shoot It Perfect!
It is always worth paying attention to which direction the opposing player is looking and waiting until the last second before rushing in the direction he has chosen.