How to Play Score Hero Game? Review, Seasons, Level 400
There are not so many good mobile football games but Score Hero is worth your attention. Here you can find a review of the game, how to play Score Hero, how many seasons are there and what is Level 400…
Score Hero Game Review
In the game Score Hero, the developer tried to fix all the problems of mobile gaming on the touchscreen – made more or less convenient controls, tried to make the game interesting for the player and minimized in-app purchases. Now it's our turn to look at the creation and decide if it's worth our time. There are a lot of toys on the net with a similar type of gameplay and similar problems, but we chose this one.
How to play Score Hero game: Gameplay
At the very beginning of the game, we choose the appearance of a football player, whom we are going to play with.
This is not so important, because further you will not pay much attention to its appearance, but the developers decided to give this opportunity to football fans.
By the way, it is also impossible to fully customize a football player – you have only a choice from several proposed options.
Having chosen our hero, we will go through a short tutorial, where we will be shown how to pass, how to attack and how to score the goals.
The game offers dozens of options for winning, and you just need to find yours and implement them on the field. Gradually, your player becomes popular, he is taken to the teams and he signs up contracts with a sponsor, changes clubs and earn decent money. 
FIFA 21 Review: What Does Digital Football Look Like During A Pandemic?
It's a kind of football player manager but with possibility of playing football and all the important elements that bring pleasure and excitement.
How many seasons are in Score Hero? What is Score Hero Level 400?
The whole game is divided into seasons and the seasons are divided into levels. For example, in the first level you need to score from such and such a position, in the second you need to pass and score after that.
There are exactly 32 seasons in Score Hero game. But they are adding more and more. So at the time you read this article you may have quite different number of seasons.
The options are gradually becoming more versatile, and the opponents are more intelligent. It will no longer be possible to stupidly give a pass in front of the opponent's nose and score into the bottom corner right next to the goalkeeper.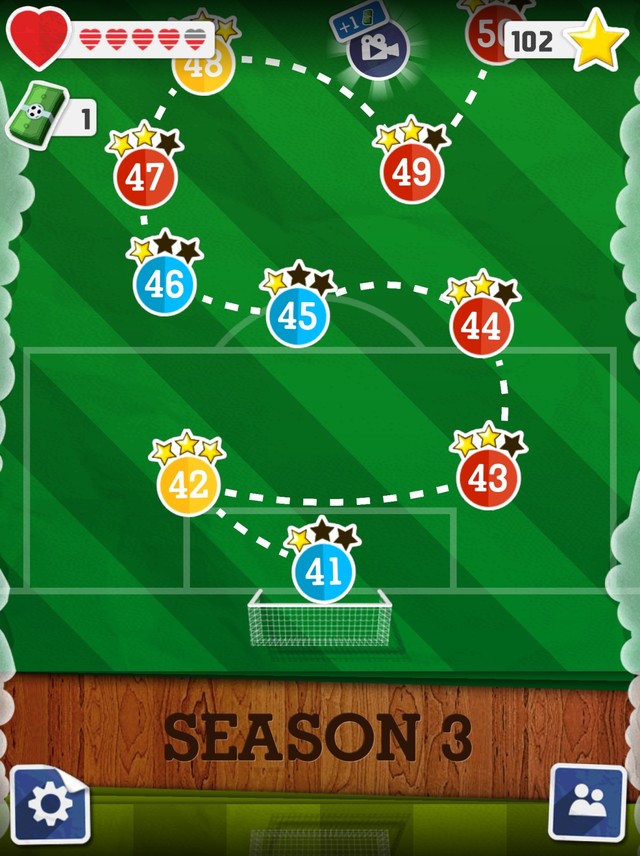 Here, tactics will come in handy, and the ability to correctly swipe your finger across the display, and even knowledge of football. In any case, the levels are interesting and make you constantly think with your head, gain skills and stuff like that. Plus there is something like a storyline that pleases us too.
Soccer Star 2020 Top Leagues: a mobile soccer game
Score Hero level 400 is the famous hardest level of the game. (P.S. to complete it you've got to: 1. score 6 goals; 2. bottom corner x3 and 3. score with scorpion kick).
In-app purchases
The developer decided not to go deep into donation. There is no way to buy yourself a cool football player, get some bonuses in the match, or something like that.
At the same time for real money you will have the opportunity to turn the moment back one step. For example, when you shot inaccurately on goal after five accurate passes. Don't want to pay – just start playing the level from the beginning.
For each pass, however, energy is taken away and when it runs out, you can either wait or pay with real money. That's it, the in-app purchases are over. Not very scary, right?
Summing up: game, which is worth to try
Now, with our short review you know how to play Score Hero and the next step – you should try it out!
The games with aim and storyline are always atractive. This product has a clear goal for your player – to become the best football player, to make a lot of money, and so on.
Football games in Android: best 10 to download
There is also a storyline, because they write about you in magazines, your coach communicates with you and there are transfers to the other clubs.
The controls are clear to manage and you will quickly get used to them.
Even in-app purchases do not bother, and this is already worth a lot.
Source: megaobzor.com